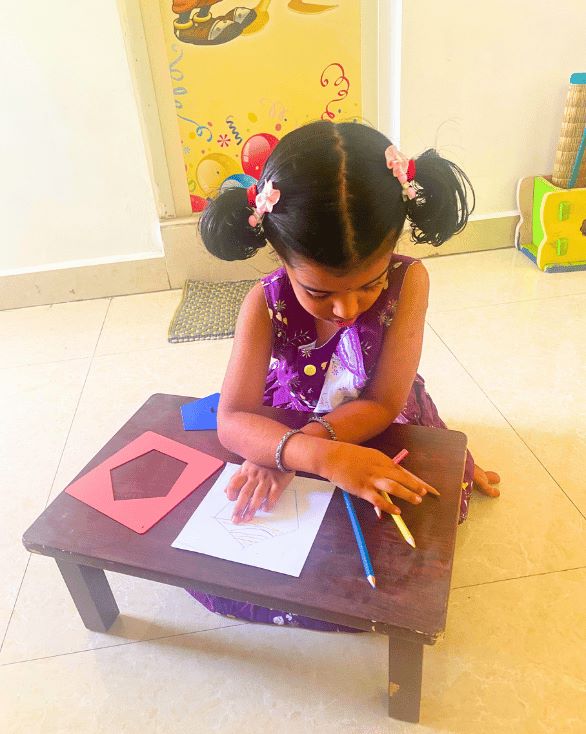 Your child's movement and expression are the keys to their interaction with the world. Within our Primary Environment, we create joyful moments of self-learning that hold deep meaning and contribute to their overall development. Through sensorial experiences, their joyful exploration reaches their intellect, taking concrete form in their growing minds.
At this stage, children are eager to explore and learn from their immediate elders and friends, utilizing their absorbent minds. We provide them with an independent mixed-age group environment, where children between 2.5 and 6 years share a nurturing facilitator throughout the three-year program. Our environment is equipped with self-correcting materials, specially designed by Dr. Maria Montessori, conveniently within the reach of children, allowing them the freedom to explore.
As you step into our environment, you'll witness children delightfully engaged in various activities. They confidently make rotis and juices, take care of their personal grooming, observe the wonders of nature in the garden, watch their friends actively involved in tasks, tend to plants and pets, and participate in activities that promote self-care, empathy, and environmental responsibility.
Moreover, you'll notice children actively involved in grading colors, tracing patterns, working with numbers, solving puzzles, forming words, reading, writing, and immersing themselves in the realms of science, culture, arts, and music. A key aspect of our program is the incredible freedom of movement and lively communication that permeates among the children and compassionate adults.
Children possess an innate drive to engage deeply in specific activities during different stages of their lives. We call these periods "sensitive periods." At Chisel Montessori school in Chennai, our adults keenly observe each child to identify these sensitive periods and create an environment that caters to their developmental needs.
We strongly believe in providing children with the freedom to explore, make mistakes, and learn at their own pace. This liberating approach allows them to build self-confidence and strive for excellence without any time limitations. By embracing and nurturing their sensitive periods, we enable your child to uncover their natural passions and unleash their true potential.
Exercise to practical life
Exercise to practical life
Everyday life activities play a crucial role in your child's development, allowing them to become self-sufficient and refine their fine motor skills. Through tasks like getting dressed, brushing teeth, using utensils, and participating in household chores, your child becomes more independent and capable. These activities not only contribute to the functioning of the family but also promote coordination and dexterity, setting the foundation for future learning and growth.
Children's innate curiosity leads them to explore the world through their senses, feeling, tasting, seeing, and hearing, using concrete materials. These experiences create lasting memories in their brains, forming the foundation for future learning.
The human brain's mathematical mind is a testament to its capacity for exactness, precision, order, and orientation. Nurturing this extraordinary trait enables children to develop essential problem-solving skills, adaptability, and a profound comprehension of numerical concepts.
Language: Unlocking Connections
Language: Unlocking Connections
Language serves as a vital tool for communication, bridging the gaps in social interactions. Children embark on a journey of exploration, touching, feeling, and using movable alphabets to create words. Starting from a foundation of basic vocabulary, they progress towards the profound realms of meaningful reading and writing, empowering them to process and comprehend the world around them.
Celebrating Diversity and Culture
Celebrating Diversity and Culture
Culture represents the universal language of humanity. Developing knowledge about the world fosters a sense of unity and compassion, expanding children's capacity for empathy. This awareness of different cultures enriches their understanding of the human experience.
Exploring the Wonders of Science
Exploring the Wonders of Science
Through this approach, children develop a deep appreciation for and actively explore the natural environment. By engaging in hands-on experiments and concrete experiences, they cultivate a solid understanding of factual information, laying the groundwork for the development of logical thinking and reasoning skills.
Art, Music, and Dance: Expressions of Life
Art, Music, and Dance: Expressions of Life
A gateway to experiencing life and expressing their inner selves. These creative mediums are integral to human development, providing adults with glimpses into the vibrant world of a child's imagination.
Kindly provide us with your information here, we will reach out to you at the earliest